Why you need Gerber Steel as a partner
If you're looking for the best stainless steel and aluminium on the market, then look no further.
Gerber Steel is a leading supplier of high-quality stainless steel and aluminium products to customers all over the world. Our experts have been reliably supplying our customers with quality materials for many years and therefore know what it takes to be successful in this industry.
We have the right solution for you
Our company has grown into one of the most sophisticated suppliers of stainless steel and aluminium products worldwide because we offer our clients superior service and competitive prices. With an extensive supply network that includes everything from standard grades to exotic alloys, we are confident that you will find exactly what you need at Gerber Steel!
Flexible international purchasing and procurement
For the benefit of our customers, we have established a large and flexible worldwide purchasing network. With a purchasing volume of several tens of thousands of tons per year, our Group is able to buy from international stainless steel and aluminum producers on excellent terms.
Supply chain management done right
Our Logistics Division is available to our customers for all questions relating to the safe delivery of their goods. From shipping in the country of origin to import in the destination country and onward transport from the port to the customer site. Fast, at excellent conditions and with decades of experience.
Let one of our experts assist you today
Call us today at +49 7642 9282851 for your next order of stainless steel and aluminium or for more information about how we can help your business grow and succeed!
No time to make a call right now?
Then send an email now to sales@gerber-steel.com. We will get back to you as soon as possible!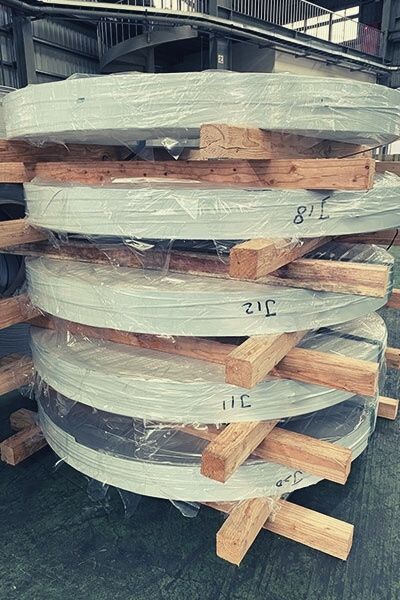 Our Austenitic Grades
EN 1.4301, AISI 304
EN 1.4307, AISI 304L
EN 1.4401, AISI 316
EN 1.4404, AISI 316L
EN 1.4541, AISI 321
Our Ferritic Grades
EN 1.4512, AISI 409
EN 1.4003, AISI 410
EN 1.4016, AISI 430
EN 1.4510, AISI 439
EN 1.4509, AISI 441
Our Aluminium Alloys
1XXX Series – Pure (99%+)
2XXX Series – Copper
3XXX Series – Manganese
4XXX Series – Silicon
Our Aluminium Alloys
5XXX Series – Magnesium
6XXX Series – Silicon and Magnesium
7XXX Series – Zinc
8XXX Series – Other elements